First Aid In the Workplace │Health and Safety Update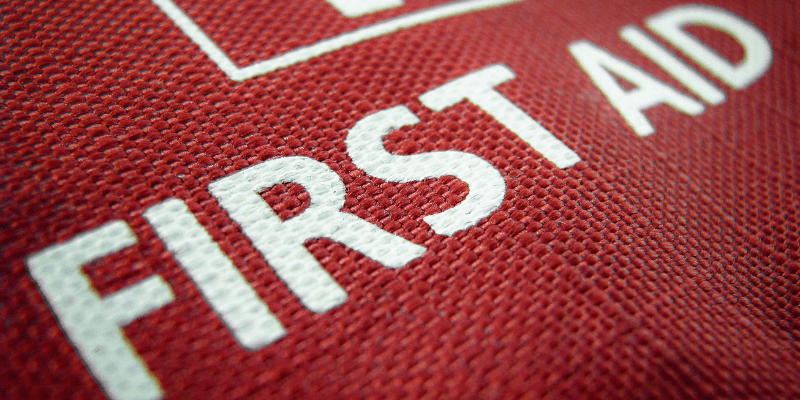 First Aid In the Workplace │Health and Safety Update
In this article, our expert H&S consultant, Colin Jones, looks to discuss First Aid in the workplace and offer advice to employers.
There always seems to be some confusion or misunderstanding when it come to first aid in the workplace. Do we need trained first aiders? How many should we have? Do we need first aid boxes?…if so how many? What should they contain?
As an employer, according to the Health and Safety first aid Regulations 2013, "An employer shall provide or ensure that there are provided such equipment and facilities as are adequate and appropriate in the circumstances for enabling first aid to be rendered to his employees if they are injured or become ill at work."
Do I Legally Have to Have First Aid Trained Staff?
The regulations state that employers must have adequate and appropriate equipment, facilities and personnel to ensure their employees receive immediate attention if they are injured or ill at work. The regulation also applies to businesses who employ less than 5 employees and to the self-employed.
So in essence you as an employer have to assess the needs and ensure the adequate provision is in place. This will also extend to those employees who work remotely on a regular basis. It does not necessarily mean you will need trained first aiders, however you will need an appointed person within the organisation to oversee that first aid can and is provided when necessary.
When Is It a Requirement to Have Trained First Aiders?
If you assess there is significant risk, or your organisation is of a particular size then there may be necessary to have trained first aiders. The guideline suggest 1 first aider per 100 employees but this is not a hard and fast rule, as it may well depend on the level of risk and the hazards in the work place.
What Are the 3 Primary Duties of a First Aider?
Assess the situation quickly and calmly.
Protect yourself and them from any danger.
Prevent infection between you and them.
Comfort and reassure.
Assess the casualty and give treatment.
Arrange for help if needed.
First Aid Boxes and What They Should Contain
When ensuring adequate and appropriate equipment and facilities, first aid boxes are required. You will also have to consider those who work remotely, either in company vehicles or who work from home and ensure these are provided.
The contents of your first aid kit should be based on your first aid needs assessment. As a guide, where work activities are low-risk (for example, desk-based work) a minimum kit might contain:
a leaflet with general guidance on first aid (for example, HSE's leaflet Basic advice on first aid at work
individually wrapped sterile plasters of assorted sizes
sterile eye pads
individually wrapped triangular bandages, preferably sterile
safety pins
large and medium-sized sterile, individually wrapped, unmedicated wound dressings
disposable gloves
This is a suggested contents list.
If you are buying a kit look for British Standard (BS) 8599. By law, your kit doesn't have to meet this standard but you should check it contains what you've identified in your needs assessment.
First aid kits may not contain prescription or over-the-counter medications such as aspirin, Ibuprofen, decongestants, sinus relief, etc. These are not first aid items.
"Employees who require these medications are encouraged to bring them to work for their personal use"
As an employer, you have a legal duty to keep your employees safe, if you would like to discuss First aid in the workplace further or would like to understand how our team can help you keep on top of your Health and Safety, get in contact with our team of experts today.
T: 0844 800 5932
E: contact@highperformanceconsultancy.com
Twitter: @HPC_HRServices